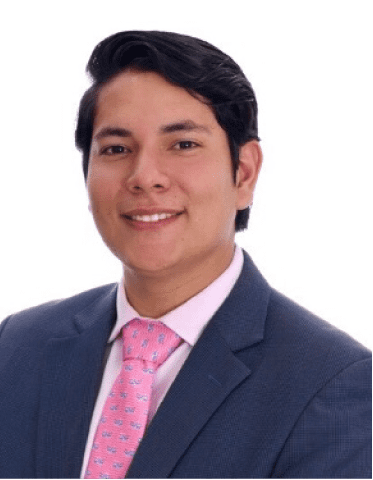 Jorge Valarezo Díaz
Jorge Valarezo concentrates his practice in Labor, Civil, Family, Corporate, Immigration and Intellectual Property Law.
He additionally provides comprehensive advice as an Internal Auditor certified by SGS in Quality Management Systems, Environmental Management and Occupational Health and Safety.
Participaciones Relevantes
Entre sus actuaciones más significativas destacan:
Procesos de supervisión en el ámbito bancario y popular y solidario.
Supervisión y seguimiento al Juzgado de Coactivas de la Superintendencia de Bancos.
Proceso de conformación de Ban Ecuador
Sustanciación de procesos administrativos, en ámbitos de derechos a la comunicación y niñez y adolescencia. 
Análisis y desarrollo normativo en la Presidencia de la República y el Ministerio de Justicia, Derechos Humanos y Cultos.
Asistencia en los mecanismos de negociación (mesas de negociación, comisiones mixtas, reuniones bilaterales) de la cooperación internacional del Ecuador.
En la función de liquidadora, entre otras, se encuentra a cargo de la potestad coactiva de las entidades y el litigio de los juicios.
Lawyer. Santiago de Guayaquil Catholic University.
La Ley para el Fomento Productivo fortalece el arbitraje internacional en el
Ecuador, Revistra de arbitraje comercial y de inversiones, vol XI n°3, 2018.
Ecuador flexibiliza sus reglas de arbitraje internacional para atraer inversiones, Revista de Arbitraje de la Comunidad Iberoamericana (CIAR), octubre 2018.
Derecho Internacional Privado, Capítulo Ecuador, con A. Galindo, 2018.
Arbitraje internacional en el Ecuador y las condiciones de arbitrabilidad, Los 20 años de la Ley ecuatoriana del arbitraje, ICC, con A. Galindo, 2017.
La conformité de l'investissement au droit national, condition de sa protection internationale, ICSID Review – Foreign Investments Law Journal, 2014.
Cour de Cassation quashes decision that disregarded ICC rule on time limits to arbitrator challenges – 2 takeaways, International Arbitration Newsletter, DLA Piper, September 2014, con M. Ostrove y M. Desplats.
International Bar Association
American Society of International Law
Institute for Transnational Arbitration
American Bar Association
Foro del Arbitraje Ecuador www.arbitrajeecuador.com